Buongiorno a tutti, pronta per andare all'università e poi per tornare giù a casa pubblico questo post. Stamattina ho scoperto questa notizia di queste costosissime scarpe, che secondo me sono anche scomodissime.
160 mila euro è il prezzo stratosferico per acquistare un paio di Christopher Michael Shellis, designer gioielliere britannico. La particolarità? 2200 diamanti per un totale di 30 carati e fatte interamente di oro massiccio, per la loro ideazione e creazione ci sono voluti 3 anni di lavoro.
Dopo 5 mesi dalla loro uscita ancora nessun paio è stato venduto.
E per chi si ponesse il problema dell'accoppiamento della borsa eccovi servite, la borsa progettata è acquistabile al modico prezzo 220mila euro.
I'm ready to go to university and than to leave Rome and to go to Telese for Easter Holidays, and I show you this new post about very expensive shoes and I think that these shoes are very unconfortable. What do you think?
140.000 £ to buy these shoes. Made by Christopher Michael Shellis, british designer. 2200 diamonds for 30 carats and made in gold. 3 years to design and create these shoes.
After 5 month nobody have bought these shoes.
Who needs also a bag with the shoes there is 220.000 € bag avaible with the shoes.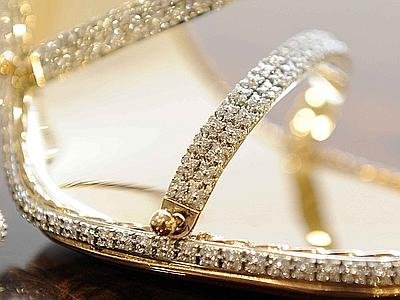 (Foto Iberpress)